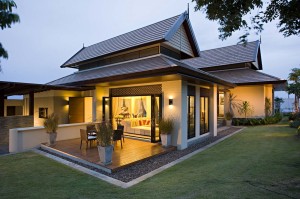 There are many things to consider when looking at property in Thailand. Some prefer to rent while others decide to buy property in Thailand. What are the options and what is best for you – you decide! In the West we normall look at the standard 100 rule.
Say if you property costs USD 100,000 then you could expect to have a rental income of rounf about USD1,000 per month. Now consider maintainance, property taxes and if it is a condo the anuual fees. Taking all into account you might see a return of 5% per annum however this is if you have tenants in the hourse of apartment.
In Thailand the pricing is skewed in many ways. Some places are getting 200 times the value of the property which would ensure a rental income of 10% or in that general area. This is one of the reasons why people invest in property in Thailand. The property market even in the middle of the global down turn might have been soft at the top end of the market but the average house or apartment increased in value. A good example is a villa bought in 2004 at a cost of 1,5 million Baht was sold last year just 5 years alter for more than 2,7 million Baht. This however most times comes down to location and demand. Some property outside of the very busy areas or far away from mass transport has remained the same. So before you buy or rent, consider the following:
1. How long am I going to be staying in Thailand;
2. Can I afford to tie up my capital in Thailand;
Once you can answer the above two questions then you stand in a better position to make a logical choice. If all you are looking for is a place to live in when not on the oil rigs for most of the year then rental might be best. If you are retired in Thailand and wish to settle down, depending on the amount of money you hold you might decide to buy or continue to rent. Very important is to always stay in the apartment or close to it for a few months to see if you like the area.  If the area is good and you can afford the outlay then purchase the property. If you need to know how property transfers occur in Thailand then speak to any of our property lawyers in Pattaya, Bangkok, Phuket, Samui Hua Hin or Chiang Mai. We are always able to assist you. Talk to us online via live chat, our tollfree UK and US telephone numbers or simply walk into any of our offices in Thailand.